Hey everyone,
I've got LOTS to tell you today so keep scrolling because you won't want to miss out on the information.
First up, I've been busy creating a couple fun Halloween projects. The first one I'm posting for you today.
The idea started when I was wandering the isles at Walgreen's and found this cool little can of cookies. Can you believe it? A $1 for the can and the cookies inside. What a bargain! (There were originally more than six of the cookies but a few were sacrificed for quality control purposes. *wink*)
I wrapped it in black cardstock and then added my Gooey border and created a wordart tag to go with it.
To create the individual pockets, I cut down strips of wax paper
Each strip was folded nearly in half
Then I unfolded them and folded in 1/2" along each of the long ends
Then, where the side fold lines cross the middle fold line I cut a slight diagonal and then trimmed along the 1/2" fold line to cut the strip off on both sides.
Here's a picture which should better explain what I just tried to say (I just reread what I typed and was totally confused! Good thing I took pics, huh?)
I put super sticky (red lined) tape which was about 3/8" wide along the folded in "tabs"
and refolded the pocket in half to adhere.
I just used my scissors to round the corners of the top edge of the pocket and inserted the broomstick cookie.
I don't remember where I saw this idea. I think my sister may have been the one that told me about it. You take these "stick" style cookies and wrap a piece of fruit roll or similar type product around the base to make these cute little brooms. Perfect for the little witches and wizards on Halloween. An additional tiny strip of fruit strip (or you could use licorice shoestrings) is wrapped over the top of the base piece to finish it off.
I hope you like it. The details will be at the end of this post.
Next up, I wanted to remind you all that tomorrow is
Freebie Friday
at the
Paper Popsicles
blog. You'll be able to see the digital stamp freebie at the blog tomorrow. If you like it you will be able to go to the store and "purchase" it for $0 on Friday only. After that it will still be available in the store but it will have a slightly larger price tag on it. I'll be back tomorrow with the direct link to the item to help you find it faster.
Now I know I said at the beginning of this post that I have been working on a couple Halloween projects and you've only seen one. Well, you'll have to wait until Saturday to see the second one. It was created for
Paper Popsicles' Creepy Crawly Blog Stomp!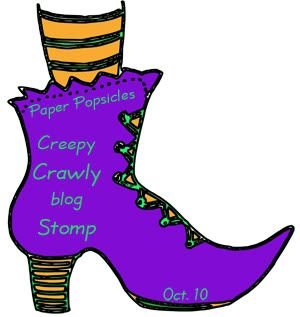 Several of the
Paper Popsicles
designers have been busy creating Halloween themed projects for our Blog hop which is this Saturday!! You will NOT want to miss it. Each of the blogs will have some sort of freebie or giveaway. And you will want to make sure you post comments on each blog so that you will be included in the drawings. I hope you'll make time to join us. The fun begins at the
Paper Popsicles blog
at 6am Pacific time (9am Eastern).
I think that's everything. Have a great night!
Details:

Witch (shaped card digital file was altered to make a digital stamp)
Patterned paper:

Haunted Nevermore

(

Cosmo Cricket

)

Word art font: Addams

Gooey border: Cricut and DesignStudio with George cartridge

CUT FILE: ** Donate button is at the top right. Please specify which file you want when you purchase.

Also available in PDF or SVG format. Let me know if this is what you need.

Other items from my crafty closet: black and white cardstock, Stickles, ribbon, adhesive
** Refer to
Cut File
link to see how to get my files.